Hello friends! After a Long time  I am writing a blog post with a Brand New Fastest Loading WordPress Theme. I have specially Developed this Theme for my friend but then I thought to share it with you all. I hope everybody will like this theme and Leave their valuable comments on this.
This theme is really Very simple and fast Loading WordPress Theme. I am writing few Good features about this below. I will not go in depth like how to install the theme and how to configure it as I know everybody know about it and regarding configuring the theme, its too easy just like learning A, B, C, D. All you have to do is Upload the theme File in your Theme Directory and then Activate it. After this you will find this kind of Icon

in your Admin Dashboard Sidebar. Just click it then you will land on the Theme Settings Panel where you can configure the theme like enabling, disabling any feature etc…
I always write any tutorial in details with step by step screen shots but this time I want to say sorry to you because I really don't have time to go through in step by step but I believe you can handle this easily, if you will have any problem or face any difficulties in configuring the theme then please don't hesitate to comment here. I will reply to your all Questions and try my best to solve your problem.
Ok then I am writing the main Features of the theme Below.
Its The Fastest Loading WordPress Theme.
Its an Adsense Ready Theme.
Fixed  Width Two Column and Multiple Widget ready
Adsense and Non Adsense Advertisement Module Enabled and you can easily display any kind of ads within your Post with the help of Short Codes.
You can easily control the look, style and feel of every widgets as per the Purpose of your Blog
Post Thumbnail also enabled, it can Generate post thumbnails automatically (use the first image from the post gallery)
You will also have full control over the size of the thumbnail Images.
Footer Copyright Text can also be edited from the Theme Settings Panel.
You will have full control over the Header, Navigation Menu, Posts, Featured Images, Post Excerpt, Pages, Comments, Sidebar, Footer Area
Within your Theme Settings Panel you Can view the Live Changes which you will do with your theme without reloading your Blog.
For Adding the Adsense Publisher Code and Channel ID I have Integrated the Theme Editor with the Theme Setting Panel so you don't need to go the Theme editor separately to add or edit the Adsense Details.
Smilies are also enabled on Comments. Here also you will have full control whether to enable this feature or Disable this.
You will find a Theme Support Widget under your WordPress Dashboard. I have added this widget for you in order to provide you a better Theme related Support.
I have tested this theme on All Firefox Versions, Google Chrome, Opera, Safari, Netscape Navigator The theme is looking great in these 5 Browsers but it may not display good in older IE and  please don't ask me support for any IE related Issues as I hate the IE browser and WordPress Itself stop supporting it. You may Upgrade your Old IE browser to Latest IE9 as IE has fixed few Bugs in IE9 so The theme may look good like other browsers in IE9.
So friend Please find some time to Download and use the theme in your Blogs and I will request you to not to remove my footer Credit from your blog as from my Busy Work Schedule I find some time to build this kind of Premium theme for you for free and Providing free support so I hope you will co-operate and keep the footer Credit Link.
If you will use the theme in your any Blog then Kindly Drop me a Comment with your Blog Link where you have used the theme so That I can know How many of you like my theme and using it in your blogs and in this way you will also add a Backlink from my site by adding your Blog link in Comment.
Please Post your Valuable comments and Write me your Suggestions and Feedback for this theme. Time to time I will update the theme and add new Features to it so keep visiting my blog and please socialize the Blog Post.
[Note:]
I have Recently Updated the Theme and Now It will Load Much Faster than Previous Version. So Happy Downloading.
I have found within a Month More than 200+ People Downloaded this Theme and Only One Person Commented here and Another Person Mailed me with His Testimony But I am very Unhappy with the Behavior of the Users. I have provided the theme to you all for free and I'm not charging anything but you have no time to drop a complementary Comment.
Anyways I will keep updating this theme for you for life time and now the theme will load Much Faster than Previous Version.
Download Now!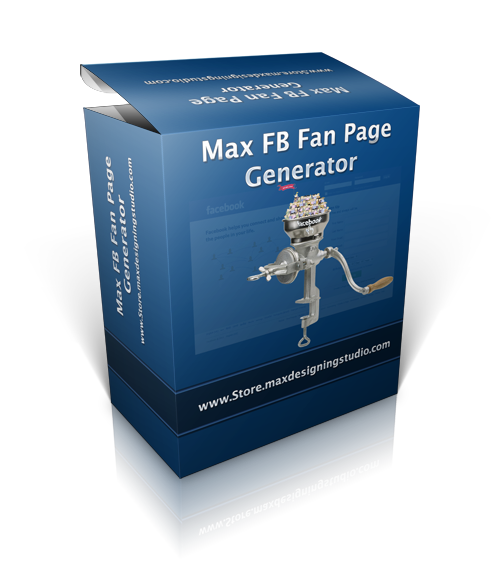 Hello Friends I have just finished my New Plugin Called "Max FB Fan Page Generator". Just tested the Plugin with my few Client's Facebook Fan Page and its working good. Please allow me 1-2 days so that I can prepare a Handy Tutorial For you so that you can easily install and configure the plugin in your WordPress Blog.
UPDATE:
Well Finally all testing have been done and Now the Plugin has been Released.  Briefly writing about this Plugin below.
Max FB Fan Page Generator is a Premium WordPress Plugin Using which you can easily create a Stunning WordPress Based Facebook Fan Pages.  This is the easiest way to take advantage of the recent Facebook iFrame changes without tearing your hair out or needing to spend hours studying exactly how to do it!
You can buy it from our Online Store. Please Click the Button below to Buy this Great Plugin. You can use this Discount Coupon in Order to get a Discount "welcome2011″

Sign-Up For Our Affiliate Program and Earn Up to 5% Commission on Every Sale. Please click the Image Below to Join Our Affiliate Program.
Friends Today I have submitted a Two Column Fixed Width WordPress Theme to WordPress Theme Directory. If the Theme will be approved by the WordPress Team then I will provide you the download link to the Theme File here. If the Theme won't accepted by The WordPress Team Then I will provide you the External Download Link of the Theme and also List the featured of the theme in this Post.
Thanks For Reading This Post.
Regards,
~Debasis.
Dear Friends recently I have developed a Small "Google Chrome Extension" for "PETA India". This Extension is very small but very Powerful. This Extension Will Display The Latest News From PETA India's Facebook Wall.
In a single click you can easily get the Latest News From PETA India's Facebook Wall. This Extension is Really Very Amazing. I Hope You All Will Enjoy this Small Google Chrome Extension.
Below I am writing the Procedure to Install the Extension.
First you need to Download The Extension From any of the Following Given Download Links/Mirrors.
Save the Extension anywhere in your PC (You Can also Save it to your Desktop.)
Then Double Click On the Extension.
Then your Google Chrome Browser Will Automatically Open (If its not already opened) and you can see the following message as displayed in the following Screen Shot.
Then click on the "Continue" button.
Next you will see something like this
Then Just click on the "Install" button.
Then The Extension will Show you a Message On the Successful Installation of the Extension.
After Successful Installation of the Extension you will see an ICON like below
Then Just click on the Icon
When you will Click ON the ICON you Will View The Latest  PETA India's Facebook Wall News
Done!!!
If you Really Like this Extension then please leave your Valuable Comments.
P.S: This Is a Beta Version of The Extension. I am trying my best to add new Features to it. Please Support Me.
Thanks.
Debasis.
Dear Users and visitors, we recently launched our new eBook on WordPress CMS for Beginners and Newbies. This eBook is all about WordPress. This Book is completely dedicated to the beginners who don't know anything about WordPress.
This book covers everything what a newbie needs, starting from Keywords Research to WordPress Blog Setup etc… This is a complete Beginner's Guide of WordPress for Newbies. You will really enjoy reading this eBook.
This book covers everything what a newbie needs, starting from Keywords Research to WordPress Blog Setup etc… This is a complete Beginner's Guide of WordPress for Newbies, every step is demonstrated with appropriate and relevant Screen Shots; which will helps beginners a lot. You will really enjoy reading this eBook.
There are 36 Chapters in this eBook.
You can Read More about This eBook from its Main Site: WordPress School
Reasons To Buy This eBook.
Dear readers you may get lots of sites offering WordPress tutorials and different eBooks but you must be wondering what is unique about wordPressschools.Info well in this site you will get all practical knowledge,Step by Step Guide to get acquainted with WordPress. As I myself a Web Developer so I can assure you that you will get Details Knowledge which can make you an established WordPress Devloper.What I have shared in my Tutorial, you will not get those in other Tutorials Site.This Tutorial is not intended to make Expert Only Theoritically but my Step by Step Screen Shot will make you a real WordPress Developer. So what are you Waiting for??? Hurry Up and Buy This eBook Now.